Top 8 Ugliest Buildings in Chicago
The Ugliest Buildings in Chicago 
According to Time Out:
Chicago is known for its diverse and magnificent architecture, from the neo-Gothic facade of the Tribune Tower to the modernist waves that grace the Aqua Tower. In the summer, our streets and waterways are clogged with buses and boats on architectural tours. But even a skyline as gorgeous as ours has a few duds.
Inspired by a certain real estate mogul who is slowly but surely slapping his name on the side of his ostentatious skyscraper, we assessed the city's downtown buildings and assembled a list of some of the least aesthetically pleasing buildings in River North and the Loop. Got a few you'd like to see added to the list? Leave a comment below.
Here is a taste of timeout.com's list:
Greenway Self-Park, 60 W Kinzie St
You are a lowly parking garage in River North. Don't pretend you're the damn Pompidou Center in Paris. You embarrass yourself.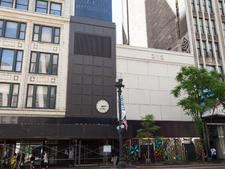 214 S State St, a.k.a. Roberto's Building
We at Time Out are lucky enough to work near this architectural wonder, so we get to gaze upon it every day. It was far uglier when it was occupied by the men's store Roberto's, due to its gigantic sign featuring men in suits, painted by an artist of dubious talent. Now all that's left are four stories of shit-brown concrete and a clock.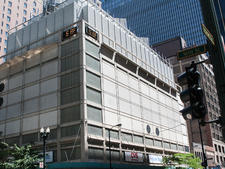 CVS, 137 S State St
On any given day, this windowless cube belches fat plumes of… steam? smoke? dragon farts? What vague machinery lies above the drug store in this cyberpunk block? Ridley Scott should take note in case he needs a laundromat in the Blade Runner sequel.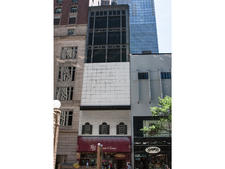 127 S State St
The saddest part about this building, built in the late 1910s, is that you can see, at the very top, that it was once inoffensive. Then some dimwits had the idea to update it with slapped-on features. Behold the section with the white siding and windows with shutters, making it look like a Gold Rush saloon. And above that…what is that, even? White square of concrete?
The Museum of Contemporary Art, 220 E Chicago Ave
Don't get us wrong—we love what's inside the MCA, but that sad, mostly windowless gray box does the museum an injustice.
Ontario Place, 10 E Ontario St
With its rows of porches and oddly arranged windows, Ontario Place could be mistaken for a slummy high-rise from District 9. Not the kind of "private residence" we would want to spend a couple thousand dollars each month to live in.
Willis Tower, 233 S Wacker Dr
A controversial choice for sure, but let's be real: The only things Willis Tower has going for it are its height (now the second-tallest in the Western Hemisphere, thanks to New York's One World Trade Center) and the Ledge (enjoy at your own risk). It's just a collection of hulking black boxes topped with walrus tusks.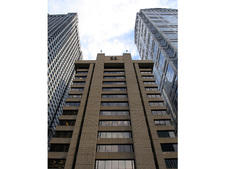 55 W Wacker Dr
An otherwise impressive stretch of riverfront architecture is marred by this molded concrete tic-tac-toe board, adorned with tacky fonts. Is it any surprise that Chicago's Fox News bureau calls this building home?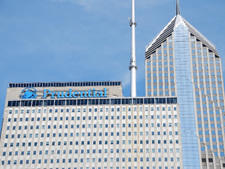 One Prudential Plaza, 130 E Randolph St
A big gray box, skewered by a giant silver pole. This is some Eastern bloc shit.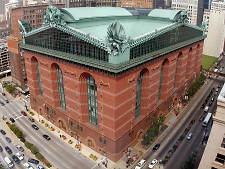 Harold Washington Library, 400 S State St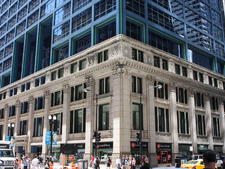 10 S LaSalle Street
An odd mash-up of classicism and dated modernism, this building is akin to wearing a 1990s Minnesota Timberwolves jersey​ over frilly pantaloons. The neon striping and stonework also gives off the vibe of the world tallest nightclub.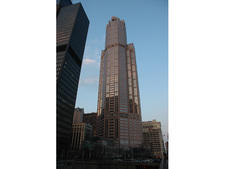 311 S Wacker Dr, a.k.a. the White Castle Building
The '80s were a dark time for architecture. In no other era would a building entirely clad in pink granite seem like a great idea. The gaudy turret on top is the icing on this ugly wedding cake.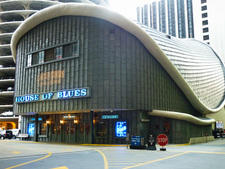 House of Blues, 329 N Dearborn St
Hidden behind the iconic Marina City towers, Chicago's House of Blues looks like a tiki hut that had a giant concrete pancake dropped on top of it. The venue's acoustics lend further credence to this theory.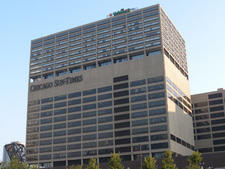 Chicago Sun-Times Building, 350 N Orleans St
Extra! Extra! Your daily newspaper is written in this depressing brown box with a Holiday Inn on top of it.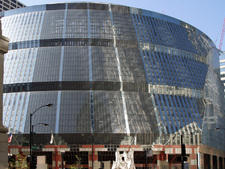 Thompson Center, 100 W Randolph St
The Thompson Center was seemingly designed in anticipation of a future where everything is gigantic and made entirely of glass. These days, it's a glaring eyesore (literally, on a sunny day) that houses a shitty food court and racks up outrageous heating/cooling bills.