Michael Jackson's Amazing Neverland Ranch Can Be Yours For $100 Million
This from popsugar.com
Michael Jackson's Neverland Ranch is one of the most famed celebrity properties ever. The massive Santa Barbara, CA, property is up for grabs to buyers with the $100 million in cold, hard cash to snag it. But if you don't have the funds to occupy the legendary home, then this video is the next best way to get inside.
In the enticing five-minute video released by Sotheby's International Realty, we're given an unprecedented aerial view of the ranch's lush green meadows and rarely seen interiors, including the built-in dance studio, movie theater, and an animal pasture — and these are only a fraction of the epic amenities that occupy the ranch!
While we'll probably have to save for a lifetime to close the deal on the space, this video is sure to leave buyers and dreamers alike swooning over the one-of-a-kind landmark. Watch along to see for yourself.
2/26/16 Update: The video has been removed by Sotheby's International Realty.
And this came from Bloomberg.com
Almost a year ago, in May 2015, Michael Jackson's formerNeverland Ranch hit the market. The 12,598-square-foot French Normandy-style home sits on 2,698 acres in the Santa Ynez Valley, northeast of Los Angeles. It has six-bedrooms, a four-acre lake with waterfall, an outdoor barbecue, a pool house, three guest houses, a tennis court, and a 5,500-square-foot movie theater and stage. Asking price back then? $100 million.
Asking price 10 months later? $100 million.
The reason for the lack of movement on the price tag isn't a stubborn seller or the lack of draw. (It really has a fairytale feel.) Homes in the highest echelon of the real estate market—everywhere—simply aren't selling fast. The key to unloading a $100 million dollar property these days? Patience.
"The uber-luxury high-end market is not anywhere near where it was three, four, five years ago," said Brendon DeSimone, real estate expert with listings site Zillow.com. "That market has just really slowed down, and there are only so many billionaires who can afford to buy these homes." (Bloomberg, by the way, counts at least 200 global billionaires, but not all of them are looking for a far-flung ranch.)
Luxury Slowdown
Dropping oil prices, fluctuating stock markets, and weak currencies have led to slowdowns in the world's priciest markets. International buyers are still a force in the American real estate market, in part because high-net-worth individuals are looking for safer places than the stock market to park their cash. But it's a little riskier to invest in a property that's off the beaten luxury path, no matter how storied its pedigree. Sycamore Valley Ranch, as Neverland is now called, has three major hurdles to overcome: location, location, location.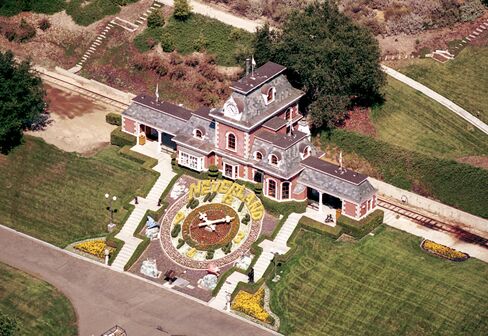 The property—purchased from a financially ailing Jackson in 2008 with a $23.5 million note from Thomas Barrack Jr.'s Colony Capital LLC—is located in Los Olivos, a town of around 1,100 residents located about 130 miles northeast of L.A. That's pretty far from the proliferation of the highest-end homes. "Most of the homes in these price ranges are waterfront, or with ocean views, or they're in the cities," said DeSimone. "They're concentrated in L.A., New York, San Francisco, and Miami."
According to Zillow, Neverland is asking nearly 200 times the median home value of $548,500 in Santa Barbara County. Wayne S. Natale, real estate broker for nearby Village Properties and a 30-year veteran of real estate in the Santa Ynez Valley, said there are few truly high-end properties in his domain. (He doesn't represent Neverland but has toured the property many times.) Only a couple of homes above $4 million sell each year. There's almost nothing to compare Neverland to—no comps to settle the stomachs of nervous buyers. Just as the singer was inimitable, so is his property.
"There's never been a $100 million sale in the Santa Ynez Valley," Natale said. "If it was in Aspen, it would be a $100 million property, or maybe if it was in upstate New York or the Hamptons. But here, that asking price has a lot of blue sky in it."