Downtown Chicago's Most Iconic Public Art
Check it out here!
While exploring the streets of downtown Chicago, you need to stop by and look at the area's iconic public art. Between sculptures to murals, there are a ton of art that you can admire and take photos of all day.
Cloud Gate
201 E Randolph St, Chicago, IL 60602
The most recognizable public art in Chicago is Cloud Gate aka "The Bean". Installed in 2006, the 66-foot-long metal piece casts a wide-angle reflection of the downtown skyline. Cloud Gate is the perfect place to take nonstop selfies.
Four Seasons
10 South Dearborn Street, Chicago, IL 60603
This colorful mosaic is located in the plaza at the base of Chase Tower. The four-sided mosaic depicts the arrival of spring, summer, winter, and fall. The piece was completed by painter Marc Chagall in 1974 and renovated in 1994 by adding a glass protective canopy.
Crown Fountain
124 East Monroe Street, Chicago, IL 60601
If you have kids that enjoy playing in the water, then Crown Fountain is the perfect piece of public art to visit. The piece of art features two LED-clad towers that flip through about 1,000 faces which shoot out water through their mouths during the summer. Crown Fountain is just south of Cloud Gate.
Buckingham Fountain
301 South Columbus Drive, Chicago, IL 60605
Buckingham Fountain was designed by architects Daniel Burnham and Edward H. Bennet in 1927.  The fountain is one of the oldest and most well-established symbols of Chicago. It holds 1.5 million gallons of water that shoots up to 150 feet in the air during hourly shows.
The Picasso at Daley Plaza
Cook County Environmental Control, 69 West Washington Street # 1900, Chicago, IL 60602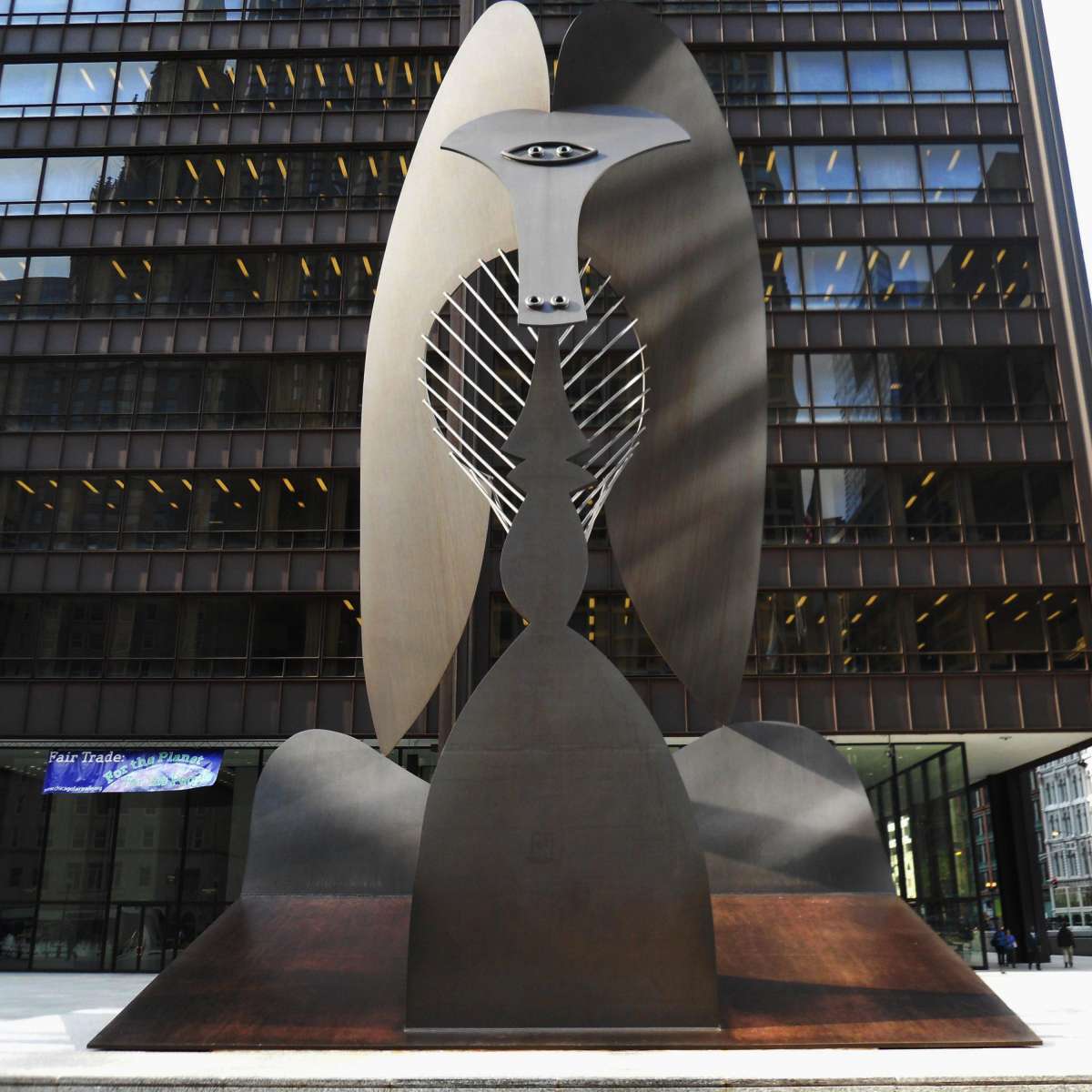 Downtown Chicago has a 50-foot original Pablo Picasso sculpture in the middle of Daley Plaza. When it debuted in 1967, many citizens of Chicago were critical of the avant-garde work of art calling it an insect or a baboon. Now, people love "The Picasso" and it has become one of the great symbols of Chicago.
Flamingo
50 West Adams Street, Chicago, IL 60610
Alexander Calder unveiled Flamingo in Chicago's Federal Center Plaza in 1974. The steel sculpture stands out against the dark backdrop because of its bright red coloration. Flamingo has been featured in many movies like Ferris Bueller's Day Off.
These are just some of the most iconic public art in downtown Chicago. Don't forget to take photos and have fun while viewing these amazing pieces of art.