Get Ready for Spring: Top 10 Rooftop Bars in Chicago
Who doesn't love sipping on a colorful cocktail or nursing a beer while taking in endless views of the Second City itself? Culture Trip put together a list of the absolute best rooftop bars around the city just in time for spring! Don't worry, we promise the warmer weather is on its way!
The J. Parker
Nestled in Lincoln Park, the J Parker rooftop will have you gazing at the Lincoln Park Zoo, the city skyline, panoramic views of the lake, and maybe even the attractive people sitting on this patio. There's no doubt that their drinks like 'Let's Get Lost' or the 'Rebel Rebel' are always deserving of five stars, and their small bites are a perfect companion.
The J. Parker, 1816 N Clark St, Chicago, IL, USA +1 312 254 4747
Joy District
New to the River North rooftop scene, Joy District has a cool and eclectic decor. The overhead lighting, the beautiful paintings, the massive windows, the fun words lit up on the walls all combine for a mesmerizing experience. And the mouthwatering drinks and appetizers add to the draw. The cucumber coolers are top-notch. Unlike most places on Hubbard Street, this bar, club, and rooftop has an open door policy for all ages.
Joy District, 12 W Hubbard St, Chicago, IL, USA +1 312 955 0339
Cerise at the Virgin Hotel
As if the Virgin Hotel wasn't swanky enough, its rooftop bar, Cerise will inspire you to take your happy hour to the next level. Functioning as a rooftop bar and a nightclub with craft cocktails, this hot spot is in the heart of the Loop. With an elegant ambience, this place is always packed and the homemade honey whiskey is worth every penny.
Virgin Hotel, 203 N Wabash Ave, Chicago, IL, USA +1 312 940 4400
Vertigo Sky Lounge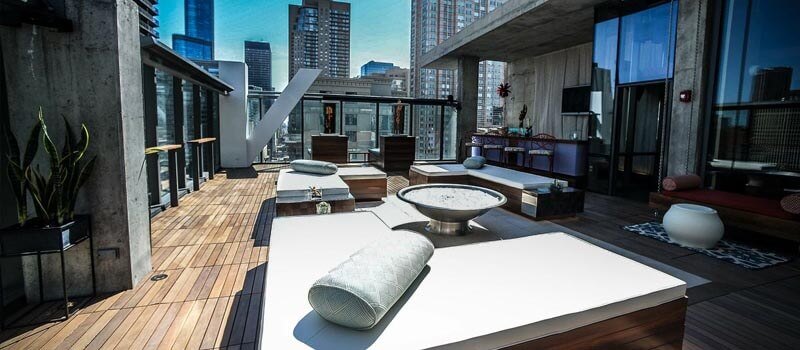 This bar is notorious for staying open all year long. With a beautiful rooftop, and a fire pit, there's nothing to complain about. Whether it's a chilly summer night or a below freezing winter night the Vertigo Sky Lounge has you covered. Additionally, in the winter, there's an ice bar set up in this chic winter wonderland.
Veritgo Sky Lounge, 2 W Erie St, Chicago, IL, USA +1 312 202 6060
Cindy's Rooftop Bar
With the best aerial view of the Cloud Gate, Cindy's rooftop has eye catching decor making even the small details gorgeous. From the cocktail glasses to the eclectic lighting, this is an Instagram-savvy experience. Favorite menu items include the meatballs, burrata, and scallops a la plancha. Some of the feature cocktails include the 'Grey Garden' and 'We'll Always Have Paris.' There is also a fire pit here for the colder months.
Cindy's, 12 S Michigan Ave, Chicago, IL, USA +1 312 792 3502
Drumbar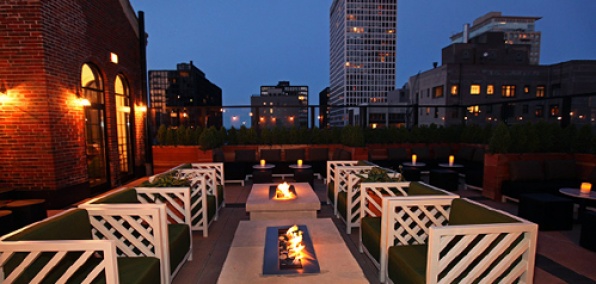 Drumbar perfectly fits into the chic and trendy Streeterville neighborhood, and is an ideal spot to enjoy the beautiful patio atmosphere. If you're strolling down the Mag Mile, this is the best place for a happy hour cocktail. The two cocktail favorites include the 'Walk A Tight Rope' and the 'Hog Wild.' These whiskey based drinks attract most people to keep coming back for more. Note that the happy hour specials run from Monday to Saturday.
Drumbar, 201 E Delaware Pl, Chicago, IL, USA +1 312 933 4805
Fremont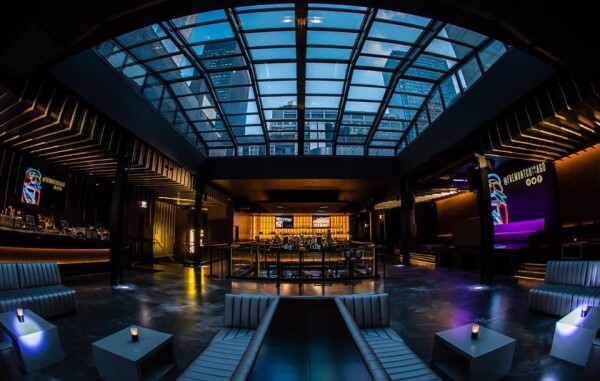 Fremont is top-notch for brunch and Thursday happy hours. The weekend brunch buffet includes everything from a waffle station, to a seafood tower, a dessert table, carving station, charcuterie, salads, and more. Even better, there's a phenomenal Bloody Mary bar with a plethora of fixings, and bottomless mimosas. Thursday happy hours include all-you-can-eat oysters and all you can drink Rose.
Fremont, 15 W Illinois St, Chicago, IL, USA +1 312 874 7270
GreenRiver
GreenRiver is stocked with refreshing beverage options for any and every mood. If you're seeking a more tropical option for your visit on the warm and sunny terrace, then say no more, the passion fruit meets lemon drink known as the 'Haley's Comet' is the choice for you. This rooftop offers light and tasty bites as well. We recommend the pea and avocado toast or the goat cheese salad. Note that this restaurant also takes reservations.
GreenRiver, 259 E Erie St, Chicago, IL, USA +1 312 337 0101
I|O Godfrey
I|O Godfrey is not as high up as some of the other rooftops in the city, but it's a swanky spot to hang with your friends where you can still feel the pulse of the city. This rooftop is open year round, and we recommend ordering the lobster Benedict, vegetable spring rolls or the charcoal grilled octopus.
I|O Godfrey, 127 W Huron St, Chicago, IL, USA +1 312 374 1830
ROOF on theWit
The best time to visit the Roof is the summer when it buzzes with DJs and special guests. With a massive video projection screen and a popping dance floor, this will be a night to remember. Additionally, there are top-notch views of the Cloud Gate and the Chicago River.
The Wit, 201 N State St, Chicago, IL, USA +1 312 239 9502