Most Beautiful Row Houses in Chicago
If you've ever taken a stroll down the streets of the Gold Coast—anywhere between North Avenue's and Oak Street's beaches—you may have noticed those vintage, brownstone clad row houses, glossed in 19th Century allure. It was the crowded sections of 17th Century Europe that led to the development of these stylistic homes, and by the 19th century, Europeans settling the Colonies took to cloning the look.
In the East Coast, as towns grew into cities, the row house was thought to be an effective use of space for both high-end and low-end housing. Today, buyers are lured towards row homes not only for the lower price tag than that of single-family houses, but also the low maintenance requirements, lack of yard work, and walk-to-everything, more urban lifestyle appeal. The East might have started it,  but Chicago comes with its very own assortment of historic row houses, sprawled across the city, trickling all the way down to the latest developments on the Near North Side. Here are a few beauties to watch for:
Located between 2225-2245 N. Burling Street, this row house built post-Chicago fire is made up of 10 undifferentiated, brick Italianates in the Lincoln Park neighborhood.
Located between 1826-34 N. Lincoln Park West, these row houses for Ann Halsted are one of the last creations of the Adler & Sullivan buildings, an architectural firm known for designing the Auditorium Building in Chicago.
The McCormick Row House district and landmark is made up of three short blocks strung together by gated street and parkway. It can be found in the belly of DePaul's campus. Asking prices go around $2 million. The Queen Anne brick row house can be found on the 800 blocks of West Belden and Chalmers streets. Also: living here comes with the perks of having a rare stand of massive Dutch Elm trees.
This Row House can be found on the 600 block of West Oakdale. The Plus side of moving here is that there is no monthly assessment. When available, prices could range anywhere from $500,000 to $1 Million.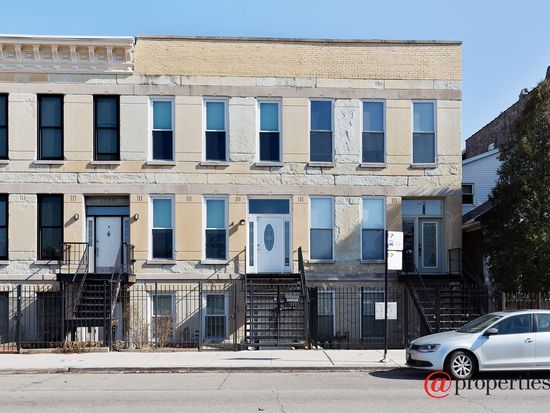 Located 1003-09 S Racine Ave, this row house was built in 1875. It is steps away from UIC and Taylor Street shopping, restaurants, the blue lines, as well as CTA buses. The building is also divided into apartments.
From its rich, oak floors to its Chef's kitchen, this Uptown Row House located at 4646 N. Kenmore Ave is a single family home, built in 1897. It is surrounded by a myriad of schools and playgrounds.
Located 55-67 W Burton Pl, this marvelous, greystone, multifamily row house sits along a tree-lined street of narrow sidewalks, offering a European-esque feel. What's even better is that only walking distance from the building you'll find a Jewel, Plum Market, Potash, popular brunch spots, local drugs stores, hole-in-the-wall Chinese restaurants, Zanies Comedy Club, The Second City, a gym, Lincoln Park Zoo, the Red Line, and North Avenue Beach, just to name a few.
At the 1900 block of W. Newport Avenue lies this architectural treasure. In the summertime, with trees bloomed and green pastures to see, this street really comes alive.
Here is one example of the many row houses in the historic Gold Coast District of Chicago. The property shown is located at
While you may suspect River North to keep rising with taller and glassier buildings, the new Basecamp development gives a refreshing take on city living. With the backdrop of the Chicago skyline, and a micro-yard at your dispense, the interior hosts open floor plans with floor to ceiling windows. Maybe not all shorter buildings will be discriminated against in the future of Chicago's architectural development.